Wire winding machine with big working space, high torque and automatic switch gear.
Wide range of application for winding simple or complicated coils, multichambers coils, trapezoidal or asymmetric winding and flat wires.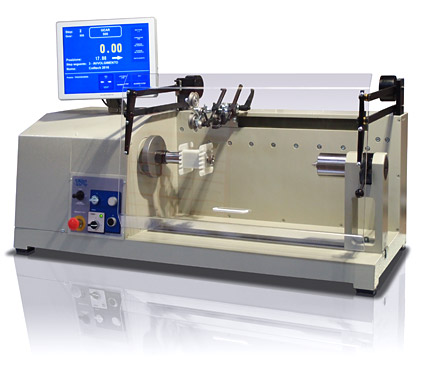 Automatic switch gear 500 / 2000 rpm
Max.torque 60 Nm
Microprocessor controlled winding cycle, T-version controller
All winding parameters programmable
Accurate reversible counting and spindle positioning
AC servo drive guarantees an excellent Start - Stop regime
Simple operation, accuracy and reliability
Specification
Wire range:
0,02 - 5
mm
Pitch range:
0,008 - 40
mm/ot.
Winding width:
0,1 - 450
mm
Turn resolution:
0,01
ot.
Accuracy of spindle stop:
0,01
ot.
Speed range:
500 / 2000
ot./min.
Distance between centre:
650
mm
Max. winding diameter:
450
mm
Power supply:
230 / 50 - 60
V / Hz
Dimensions:
1235 x 530
mm