The model designed for winding of large coils and distribution transformers.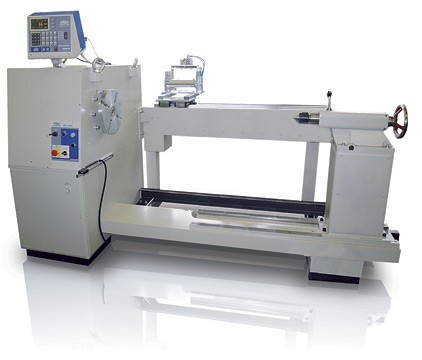 Max. torque 1600 Nm
Microprocessor controlled winding cycle
Automatic and manual winding regime
Accurate reversible counting and spindle positioning
AC servo drive guarantees an excellent Start - Stop regime
Simple operation, accuracy and reliability
Easy switching to manual winding regime
Back-UPS for optimal power protection
Standard accessories: universal wire guide, pedal and moving tailstock (optional also tipping)
Optional controller G and T version
Specification
Pitch range:
0,008 - 160,0
mm/rev.
Winding width:
800 / 1000 / 1200
mm
Distance between centres:
1200 / 1400 / 1600
mm
Max.winding diameter:
800 / 1000
mm
Accuracy of spindle stop:
0,01
rev.
Turn resolution:
0,01
rev.
Speed range:
150 / 75
rev./min.
Load between centres:
1000
kg
Power supply:
3 x 400 / 50 - 60
V / Hz
Dimensions:
1300 x 2350 / 2550 / 2750
mm
Weight:
1100 / 1200 / 1300
kg