New model of floor type winding machine ERN 80 fills the gap between standard bench and floor-type machines. The machine is suitable for the production of heavy coils and transformers, bigger working space provides good handling with product.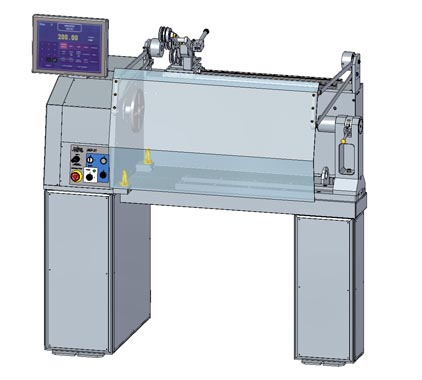 Max. torque 60 Nm, suitable for round wire diameter 5,0 mm and flat wires
Microprocessor controlled winding cycle, T-version controller
All winding parameters programmable
Accurate reversible counting and spindle positioning
AC servo drive guarantees an excellent Start - Stop regime
Simple operation, accuracy and reliability
Specification
Pitch range:
0,008 - 40
mm/rev.
Winding width:
0,1 - 550
mm
Turn resolution:
0,01
rev.
Accuracy of spindle stop:
0,01
rev.
Speed range:
750 / 3000
rpm
Distance between centers:
550
mm
Max. winding diameter:
600
mm
Power supply:
3 x 400 / 60
V / Hz
Dimensions:
1330 x 680 x 1600
mm